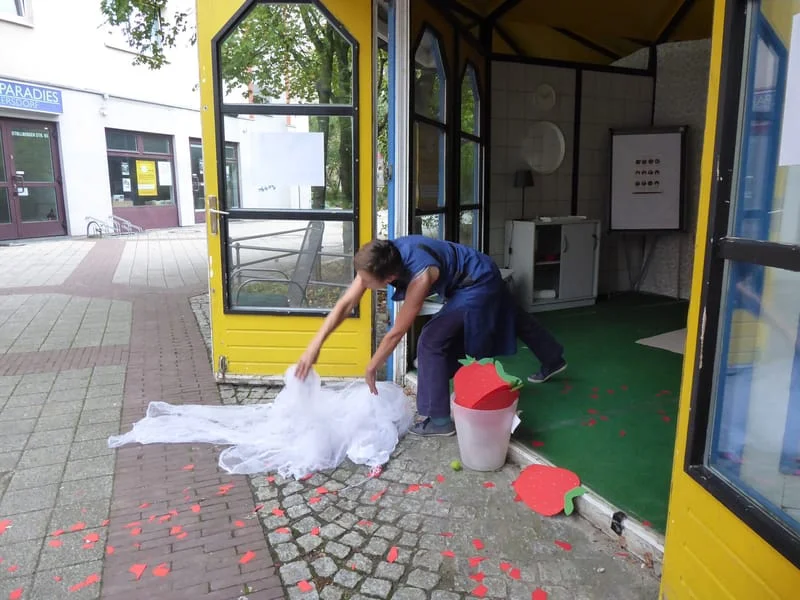 (for english see below)
Elke Postler präsentiert das Projekt Boulevarderdbeerbowle.
Das Projekt setzt sich zusammen aus poetische Spontantaten und performative Aktionen im öffentlichen Raum. Und die Überlegung, dass das Wichtige im Leben nicht zu kaufen ist. Am 3.9. 2020 wird die Künstlerin begleitet durch das Klangwerk `Donauwelle` mit dem Musiker Thomas Zunk (Klangregie)
Die Projekte finden unter Einhaltung der entsprechenden Hygieneregeln (Mindestabstand, Nasen-Mundschutz-Masken etc.) statt.
Es wird darum gebeten eigene Nasen-Mundschutz-Masken mitzubringen.
Ausstellungsdauer:
2. - 12. September 2020
geöffnet von Mittwochs - Freitags von 15-18 Uhr uns Samstag, 12.September von 16 - 19 Uhr
________________________________english___________________________
BOULEVARD STRAWBERRY PUNCH
participatory project / performance
Elke Postler presents the project Boulevarderdbeerbowle.
The project consists of poetic spontaneous acts and performative actions in public space. It is based on the consideration that the important things in life cannot be bought. On 3.9. 2020, the artist will be accompanied by the sound work Donauwelle with the musician Thomas Zunk (sound direction).
The projects will take place in compliance with the appropriate hygiene rules (minimum distance, nose-mouth masks, etc.).
We kindly ask you to bring your own face masks.
mp43 – projektraum für das periphere
Stollbergerstr. 73
12627 Berlin
(Eingang Kastanienboulevard)