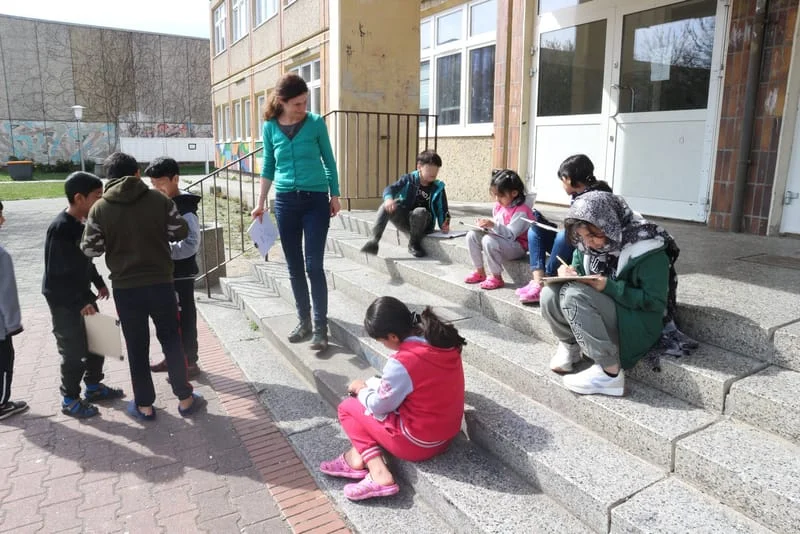 (for english see below)
Urbane Zeichen - zeichnerische Erkundung zum Thema Heimat
Künstlerin Lilla von Puttkammer
Workshopreihe im Bereich Zeichnung für Kinder und Erwachsene
Der eigene Kiez (Straßen und Plätze rund um den Boulevard Kastanienallee / BerlinHellersdorf) wurde mit Block und Stift erkundet. Das Highlight dieser Zeichensessions im Aussenraum war eine direkte Erfahrung von Stadtgeschichte, Natur, sozialem Umfeld, Entwicklung und kreativem Prozess.
Die Teilnehmenden experimentieren mit verschiedenen Zeichen und
Dokumentationstechniken, unter anderem auch mit einer wissenschaftlichen Zeichentechnik aus der Archäologie. Geschichte und Aktuelles überlagern sich in unterschiedlichen Zeitschichten. In Abfolge gesehene Orte bilden so auf dem Papier ein erfundenes Gebilde, welches der/die Betrachter*in immer wieder in neuen Zusammenhängen sehen kann.
Für den Workshop wurde der Projektraum verlassen, um möglichst viele Kinder und Erwachsene zu ereichen.
_______________________english___________________________


Urban signs - graphic exploration on the theme of home
Workshop
April - June 2022
Artist Lilla von Puttkammer
Series of drawing workshops for children and adults
The participants explored their own neighborhood (streets and squares around the Boulevard Kastanienallee / Berlin-Hellersdorf) with sketch pad and pencil. The direct experience of urban history, nature, social environment, development and the creative process became the highlight of these outdoor drawing sessions .
The participants experimented with various drawing and documentation techniques, including a scientific drawing technique from archaeology. History and current events overlap in different layers of time. Places seen in sequence thus form an invented structure on paper, which the viewer can see again and again in new contexts.
In order to reach as many children and adults as possible, we left the project space for this workshop.