the artists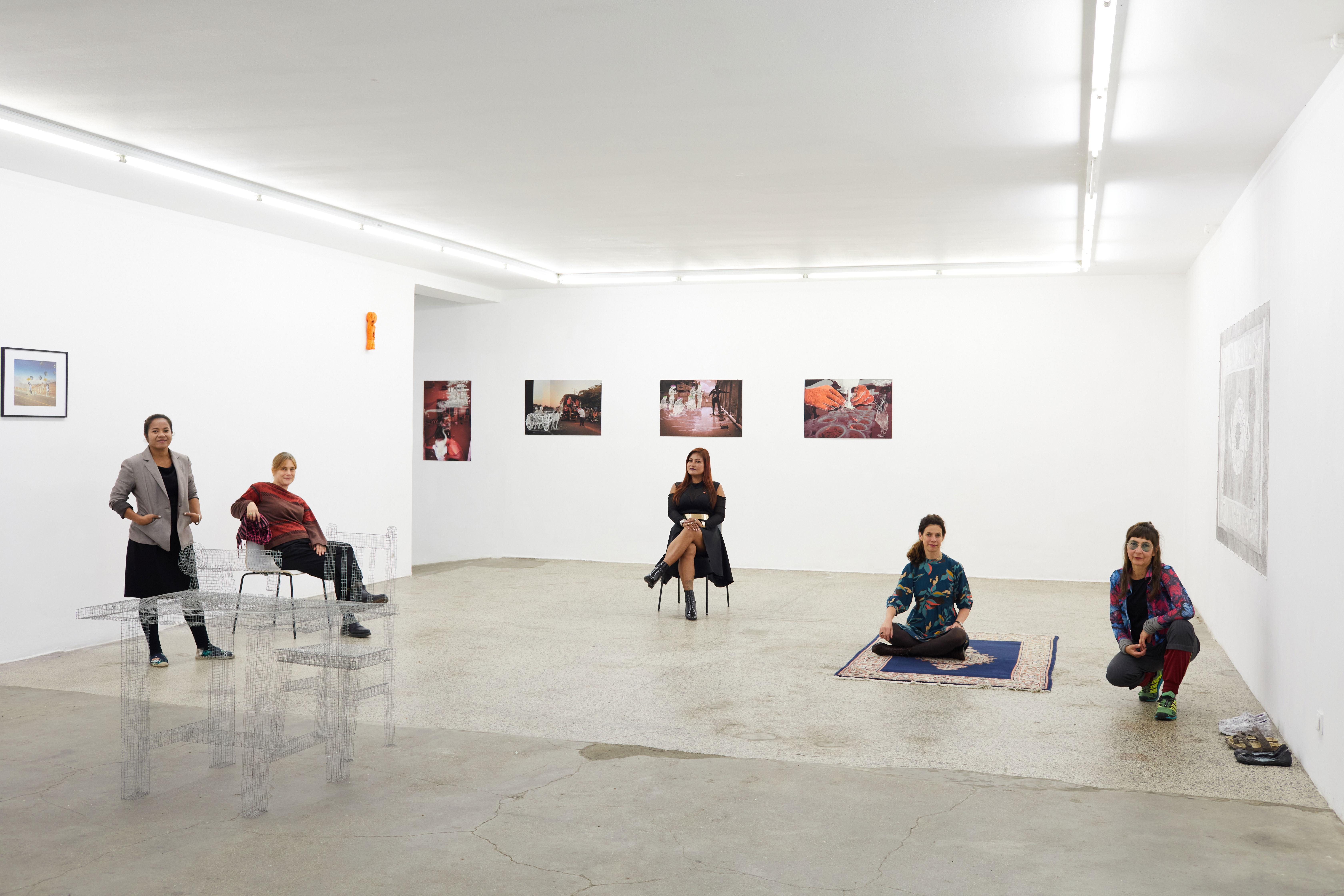 Foto Anna Bauer
Sao Sreymao Die Künstlerin setzt sich in ihrer künstlerischen Arbeit seit vielen Jahren mit menschengemachter sozialer und ökologischer Vertreibung auseinander. In der Ausstellung BONG BONG präsentiert sie mit dem Projekt Breathing Threads ihre neuesten Arbeiten zu dem Thema Arbeit und Leben kambodschanischer Textilarbeiter:innen. Neben der skulpturalen Arbeit zeigt die Künstlerin digitalen Skizzen auf Fotografien.

Sao Sopheak Die Künstlerin zeigt die Kurzfilme `Two Girls Against the Rain: Women find love in the wake of the Khmer Rouge` (10:40 Minuten) und `STRENGTH` (15:16 Minuten).
`Two Girls Against the Rain: Women find love in the wake of the Khmer Rouge` porträtiert die beiden Frauen Soth Yun und Sem Eang. Die Frauen begegneten sich in der Mitte der 70er Jahre in einer der berüchtigten Zwangsarbeitseinheiten des Regimes der Roten Khmer. Seit dieser Zeit leben sie als Paar zusammen, trotz der Missbilligung ihrer Familien und der lokalen Gemeinschaft, in der Provinz Takeo. Der Kurzfilm STRENGTH thematisiert die ungleiche Bezahlung von Frauen und Männern in der kambodschanischen Baubranche.

Lilla von Puttkamer Aus der kambodschanischen Tradition von Hausaltären ist die Idee für einen Gebetsteppich entstanden. In Phnom Penh und Angkor Wat gefundene Motive wie die Nagaschlange, der Affenkönig Hanuman und die Drachenfrucht werden mit Blumenmotiven eines zu Hause liegenden Teppichs verknüpft. Zusammen bilden sie einen neuen, hier gezeigten Teppich aus erinnerten Eindrücken, die in Ornamente und comicartige Zeichnungen übergehen. Das Motiv 'drei Reiseschuhe' sind aus Keramik nachgebildet und zeigen den durch Kambodscha gegangenen und erlebten Weg.

Vera Lossau Die Künstlerin zeigt eine Serie von analogen Collagen, die während einer Residency 2018 in Phnom Penh entstanden sind. Dabei verwendete sie vor Ort gefundene Printmedien. Eine Skulptur aus Polyurethan in glänzend-orangener Chrom-Optik, ein Abguss einer Sturmhaube, ergänzt ihren Beitrag im Kunstpunkt.

Carola Rümper Die Künstlerin präsentiert das Projekt `Talk to Kümmelkohl`. Das Kunstprojekt wurde im Mai 2023 an der Wurster Nordseeküste durchgeführt. In öffentlichen und privaten Gesprächen wurden Geschichten zu der Wildpflanze Kümmelkohl gesammelt. Die performativen Interventionen luden zur diskursiven Auseinandersetzung mit dem Thema Identität im ländlichen Raum ein. An der Wildpflanze Kümmelkohl wird die Frage nach Heimat und Identität festgemacht. In der Ausstellung werden neben den Objekten `Kümmelkohl` und `Pink Shirt` die Papierarbeiten `Deichgang` und `Platzierung` gezeigt.

__________________english______________________
Sao Sreymao The artist presents at the exhibition BONG BONG her recent work `Breathing Threads` that illustrates some vivid aspects of the work and life of Cambodian garment workers. This series shows digital sketches on photographs and one wire mesh sculpture depicting the women workers' journey and experience.

Sao Sopheak The artist is showing the short films 'Two Girls Against the Rain: Women find love in the wake of the Khmer Rouge' (10:40 min.) and 'STRENGTH' (15:16 min.).
The artist portrays the women Soth Yun and Sem Eang in the short film `Two Girls Against the Rain: Women find love in the wake of the Khmer Rouge`. The women met in the mid-1970s in one of the notorious forced labor camps of the Khmer Rouge regime. Despite their families' disapproval, they have lived together as a couple in Takeo Province since that time. As Cambodia moves closer to accepting LGBT people, Yun and Eang, now in their mid-sixties, want to get married. The short film `STRENGTH` addresses the unequal pay of women and men in the Cambodian construction industry.

Lilla von Puttkamer Small altars are not only found in the temples of Angkor Wat, but pop up everywhere in the streetscape, in personal homes, restaurants and other unexpected places in Phnom Penh. They are there to commemorate the ancestors and – despite poverty – testify to an abundance of food and personal wealth, since there is always something left for the gods. From these sculpturally interesting objects, the idea for an altar of everyday life emerged, which Lilla took as the basic idea for developing the artistic work for the exhibition in Berlin.

Vera Lossau The artist is showing a series of analogue collages created during a residency in Phnom Penh in 2018. In doing so, she used print media found locally. A sculpture made of polyurethane in a glossy orange chrome look, a cast of a balaclava, complements her contribution to Kunstpunkt.

Carola Rümper The artist presents the project 'Talk to Kümmelkohl'. The art project was carried out in May 2023 on the North Sea in the area `Land Wursten`. In public and private conversations, stories about the wild plant caraway cabbage were collected. The performative interventions invited a discursive examination of the topic of identity in rural areas. The question of home and identity is tied to the wild plant caraway cabbage. In addition to the objects 'Caraway Cabbage' and 'Pink Shirt', the exhibition also shows the works on paper 'Dike Walk' and 'Placement'.


Attention! mp43 moves for this exhibition to KUNSTPUNKT

venue
KUNSTPUNKT Berlin
Schlegelstraße 6
10115 Berlin
mp43-projektraum für das periphere
Stollberger Straße 73
(Eingang Boulevard Kastanienallee)
12627 Berlin
Das mp43 erhält eine Förderung durch den Berliner Senat